Website Design & Development
Embracing the Firm's Rich History; Planning for the Future.
DMJ & Co., PLLC (DMJ) is an INSIDE Public Accounting Top 300 Firm headquartered in Greensboro, North Carolina. With a rich history of over 70 years in business, plus a growing content program and continued growth and expansion, DMJ needed a modern website that could continue to grow and support their marketing efforts as the firm grows.
We designed their new website to maximize their content marketing programs. The website features many automation tools and resources that are controlled and updated from a central location, in which updates automatically populate across the website. For example, a service's practice leader can be changed or updated by a simple checkbox interface. When you save the update, it automatically populates on multiple pages, including the service page and the practice leader's bio page.
Increased Opportunities
Since the launch of their website, DMJ has seen a dramatic increase in usability and engagement.
Comparing year-over-year analytics from pre- and post-launch, DMJ has seen a steady surge in traffic, leading to many new opportunities!
Dynamic Firm Directory
With an expansive footprint in The Triangle, they needed a custom, custom firm directory so clients and prospects, alike, could search for CPAs in their local area, by last name, and with a simple search query.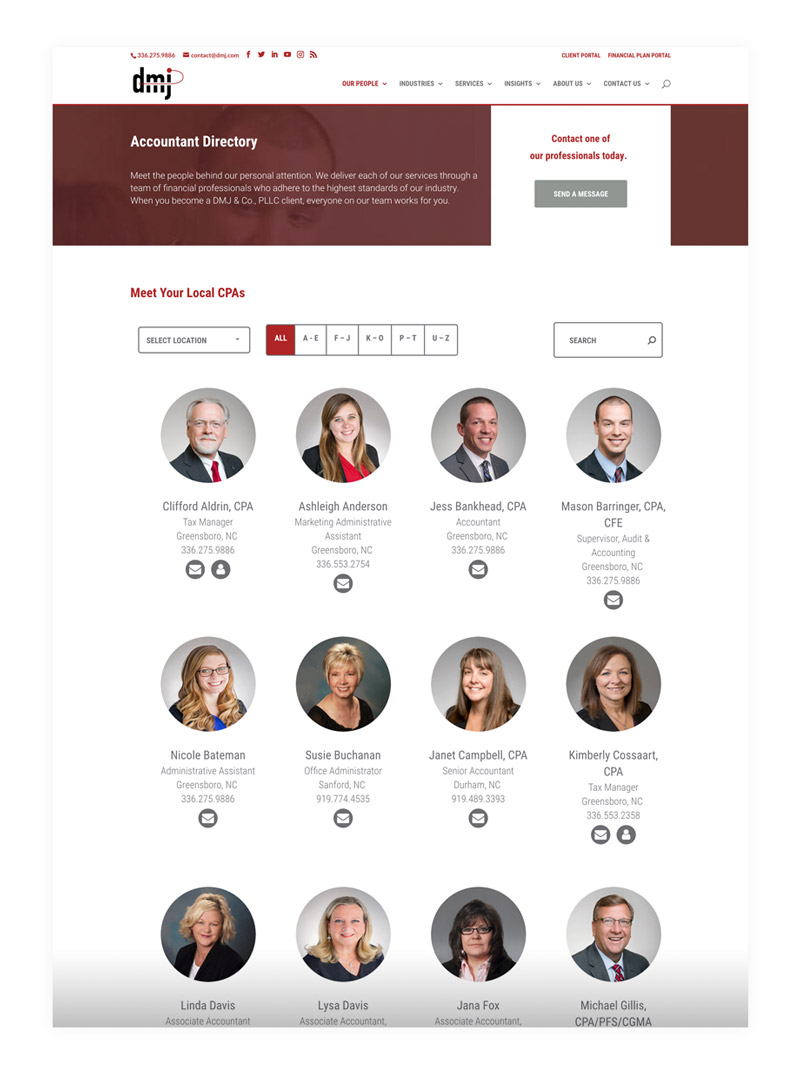 A Growing Brand
Once we dove into the DMJ brand research, we realized that the rapidly growing firm had a color palette that could restrict the modern visuals desired. We introduced complementary colors and variations to their existing brand color palette.