Next Level SEO Tactics for Accounting Firm Websites
November 29, 2018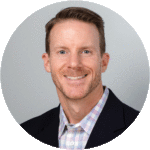 Scott Dine
Partner + Technical Director
Every single day, there are approximately 3.5 billion Google searches. Ranking high in the Google search results is often a goal for business owners and marketers, but getting there isn't achieved by any scientific formula. With that in mind, there are a few tactics that can help your accounting firm website increase its Google rank when they're consistently used. One of the best ways to organically climb the Google search results is through SEO (Search Engine Optimization). Simply, SEO is the name of a practice that intends to affect search engine rankings. Using SEO well can increase inbound traffic and potentially inbound leads, both of which are good for the marketer and for the firm. SEO gives you the power to connect with the people who are already actively searching for the accounting services you offer.
In our previous article about SEO for Accounting Firm Websites we covered the basics of SEO and what to do and not do. In this article, we will take it a bit further and look into specific SEO tactics and how to implement them on your firm's website.
Strategize
Take a Look at Your Website – Make sure that the site is ready to receive more traffic. Maybe traffic is already coming to your website, but potential customers are turned off by appearance or a bad user experience. Check to make sure links are working and if the social media is already linked. If the site is already prepared for visitors, then start optimizing. If not, complete some back-end work before you implement a new SEO strategy.

Find the Keywords – Developing a list of keywords is one of the most important steps you can take to optimize your content. It's important to know how people are searching for your accounting firm and the services you offer. These keywords and phrases are what make it possible for people to find your website from a search engine. Keywords are the foundation for all of your SEO efforts, so it is essential to know what keywords and phrases are relevant to your audience. Keep in mind that the most popular keywords for accounting may be harder to rank for. Consider less competitive keywords, especially if your website is still very new.

What are Your Goals? – If your accounting firm is looking for new clients or just more traffic, you'll approach SEO differently. If you know what you are hoping to gain from SEO, you can plan out the keywords for different pages of your website.
Foundational Reactive SEO
Optimize Past Content – Once you've done the research on the keywords you want to use, go back and apply that research to your past blog posts. That may include editing links, content, or even changing the title slightly.

Link to Your Content – Creating links between content and pages on your site is also important. The more related content you link together keeps visitors on your site a little bit longer, hopefully decreasing your bounce rate.

Ongoing SEO
Continue to optimize pages with your strategy and keywords. Make sure these key points are consistent and contain the selected keywords:
Page or blog title – This is a very simple way to add SEO to your post, but don't let a keyword sacrifice the success of a great title.

Page slug or URL – Try not to repeat the same keyword multiple times in one URL. Also, be sure to remove unnecessary 'stop' words (common words such as: and, the, or, but, etc.), but keep some that help the URL's readability or retain the intended meaning.

In the first sentence of the introductory paragraph – Within that first sentence, you've got to engage a reader, but still convey the keyword.

H1, H2 and/or H3 titles – Header tags appear in the HTML of each page on your blog. They are easy for search engines to find since they are usually there to categorize a section of your website.

Metadata (such as page excerpt or tags) – Using your selected keywords here helps tell the search engine what content you have on your page.

Images (add alt and title tags) – Placing keywords in tags for your images helps make them accessible to those who are visibly impaired, but also to search engines.

Add links to internal or external pages using the selected keywords
Why is SEO Important?
Most people who are using search engines click on one of the top five suggestions on the results page. For your accounting firm, ranking higher on a search engine gives users more trust in what services you are providing.
While none of these efforts are a "quick fix," over time these efforts will improve your website's visibility and search engine rank position (SERP). Search engine optimization is not a "one and done" operation. It doesn't happen overnight or accidentally, SEO is a planned process that will change as you edit and add more content to your website. This is only a starting point for implementing onsite SEO for your accounting firm. There are numerous online tools that can guide you in the right direction when choosing keywords and how to place them. However, hiring an expert can save you time and energy when it comes to implementing a new SEO strategy.
If you have questions about these details or would like to discuss your website SEO strategy, please feel free to contact me via email at sdine@thinkcatalyst.co.