Benefits of Ghostwriting
April 1, 2019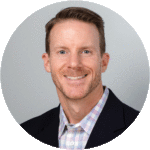 Scott Dine
Partner + Technical Director
In the industries we work in, we've noticed a big need for quality content, like what you'd find in ghostwriting. While professional firms want to maintain a website that sells their experience and services, creating content isn't always front of mind. For many small to mid-sized accounting firms, time and creativity are not always available for creating unique content, especially during busy season. This is when some of those firms opt into buying the rights to mass-produced content.
While there can be a time and place for canned content, mass-produced content is often created to appeal to a very wide audience, and often the exact same articles are floating around hundreds of blog feeds both locally and nationally. In fact, any SEO value you might hope to gain from a mass-produced article is, more often than not, diminished because they show up on many different websites and is deemed duplicate content by search engines. If you use canned content and are curious, just copy and paste the first two paragraphs of your blog into Google and see who else has the same articles.
Then there's ghostwriting, which involves using an experienced professional writer to create custom, unique content.
The Benefits of Ghostwriting
Working with ghostwriters on curated content for your websites, marketing initiatives, and physical content pieces can be a great opportunity to showcase your firm's experience and speak intently, and carefully to your audience.
Custom, curated content.
When working with a ghostwriter, you will have thoughtfully created, custom content unique to your firm and website. When you hire a ghostwriter, you have peace of mind knowing that they are an experienced professional writer who understands your industry, audience and ideas.
Flexibility on how involved you are.
Working with ghostwriters means your involvement in the creative process can be flexible. You can be as hands-on, or hands-off as you want to be.
Hands-on
Become a thought leader by providing the topic, drafting an outline, creating talking points or conduct research yourself. Then, hand it over to your writing team.
Hands-off
Lean heavily on your writing team to source hot topics and relevant article ideas, and choose which you want to move forward with. You can lean entirely on a writing team to conduct research and develop the content on their own.
What is included in ghostwriting?
Many people initially think of books when they hear 'ghostwriting.' It's pretty common for celebrities to publish books under their own name, but use a professional writer to actually write the book. When we think of modern content, ghostwriting is a very prevalent source for curated content. This includes blogs, websites, white papers, and more. Best of all, you own the content.
Blogs
Publishing consistent content is important for maintaining good thought leadership among your industry, as well as keeping favor in search engines, like Google. Even more, it provides valuable information to your current and potential clients, as well as industry readers. Maintaining a regularly updated blog can be a heavy task, and managing it isn't always easy. Utilizing ghostwriters can make the process easier, by ensuring quality content is always flowing. As an example, we can't think of many accounting firms that justifiably have the time for regular blog upkeep during busy season.
Website
The words on your website tell a story. They should invite, inform, and convince visitors that working with your business is an easy decision. Content designed to appeal specifically to your audience needs to be thoughtfully written to inform users. Content that is clunky, might not be easy to read, and in the end can misrepresent your firm. Using writers to craft website content can be a good answer for this, as they can understand how to combine your business goals and story, keywords, and intended CTA to make easy to read content. They understand what leads to conversions, and how content plays a role in SEO.
White papers
Sharing long-form and deeper-topic content, like white papers, that share your thought leadership is an important part of building trust and authority with your field. Ghostwriters can take your ideas and turn them into intentional pieces that will showcase your leadership in a professional way.
We ghostwrite!
For clients looking to take their content to the next level, we're here to offer ghostwriting services. We have produced whitepapers and blog content for Top 100 accounting firms as well as local tax, legal and other professional service firms. If you're interested in creating more thoughtfully crafted content, let's talk!